Shoplifting Charges in Colorado
June 22, 2022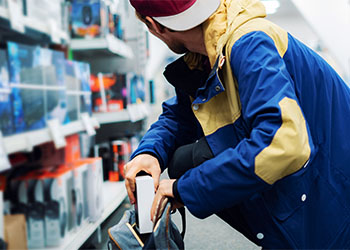 According to the Colorado Bureau of Investigation, theft in Colorado rose 86 percent between 2019 and 2021. Property crime, auto theft, and organized retail crime saw the biggest upswings. If you find yourself being accused or being charged with shoplifting—whether you actually intended to carry out the crime—you're going to need the representation of an experienced criminal defense attorney who can help you exercise your rights under the law.
If you're in or around the greater Boulder, Colorado area, contact me at the Watkins Law Firm LLC. I will provide you with personalized service through every step of the process. Your case will never be handed off to a junior attorney or paralegal. I will stand by you from start to finish.
I proudly serve clients in Boulder, Longmont, Louisville, Lafayette, Broomfield, and anywhere else in Colorado.
Theft & Shoplifting Charges in Colorado
Colorado defines theft as a person who "knowingly obtains or exercises control over" anything of value belonging to another. Theft itself is a broad category that includes burglary, the illegal taking of trade secrets, motor vehicle theft, and of course, shoplifting.
If you are accused of shoplifting, you will be prosecuted under the state's general theft statutes. The charges can range from misdemeanors to felonies depending on the value of the property illegally obtained.
In addition, Colorado law covers the concealment of goods. This refers to individuals who willfully conceal unpurchased goods or merchandise at a retail establishment. What this does is provide prosecutors with the presumption that the individual intended to commit the crime of theft by concealing the object.
Classifications of Theft & Potential Penalties
Colorado classifies theft as either petty theft or grand theft, based upon the value of the goods or services stolen. Petty theft has four categories: Class 1 petty offenses, Class 3 misdemeanors, Class 2 misdemeanors, and Class 1 misdemeanors. Fines can reach as high as $5,000, and imprisonment of up to 18 months may certainly be on the table.
Felony or grand theft has five categories, spanning from Class 6 felonies to Class 2 felonies. The time in prison and the fines are greatly increased with a felony or grand theft.
Keep in mind that in addition to these penalties, a conviction will lead to a criminal record, which will jeopardize your future employment and professional licensing opportunities. If convicted of a felony, it could end up costing you your voting rights and gun ownership rights.
Defenses to Shoplifting Charges
It's always possible that you may try on some clothes or jewelry and then forget you have them on and proceed to walk out of the store. Although that's probably not a very common occurrence, it does point to an important factor in proving a shoplifting charge—the prosecution must show that you had the intent to steal the goods.
Even if you're caught concealing the merchandise—which may lead to the presumption that you had the intent to steal—that presumption is rebuttable in court. In other words, the presumption is not ironclad, and your defense attorney may be able to challenge it. Your attorney can argue that you had no intent to steal the merchandise. It was just a mistake or forgetfulness.
Witness testimony can also be challenged. Witnesses don't always have full knowledge or recollection of what they saw you do—or allegedly do. They may have seen you pick up a piece of jewelry, admire it and try it on, but then they turned away. When they looked back, you were walking away, and they assumed you were stealing the item. Witnesses also don't always correctly identify the person they allege is committing the act of shoplifting.
Skilled & Knowledgeable Legal Advocacy
If you're under investigation or being charged with shoplifting in the greater Boulder, Colorado area, contact me immediately at the Watkins Law Firm, LLC. As a criminal defense attorney, I am meticulous and will examine every aspect of the case against you. It's my job to work with you on a strategy to seek the most favorable outcome possible. In addition, my long-term relationships in the industry help me get prosecutors and judges to see things from my clients' perspectives. Set up a consultation today.